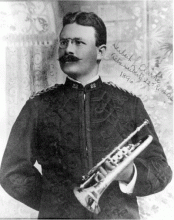 Beginning of a Series of Autobiographical Sketches
by HERBERT L. CLARKE, Noted Bandmaster and Cornet Virtuoso
Herbert Lincoln Clarke (1867-1945) was a legend in his own time. He is easily the best known cornetist of all times. From his meager beginnings of practicing on an old Ophicleide and joining the Queen's Own Rifle Regimental Band in Toronto just so he could have a cornet (a Courtois) he could call his own to practice, one would never suspect such a career lay ahead of him.