Homestead
The demands of working in Hollywood and being homesick for Montana's blue sky and tall trees prompted the Gordons' to choose a permanent home site in the San Bernardino mountains. A small airport in the heart of the Big Bear Valley determined the location.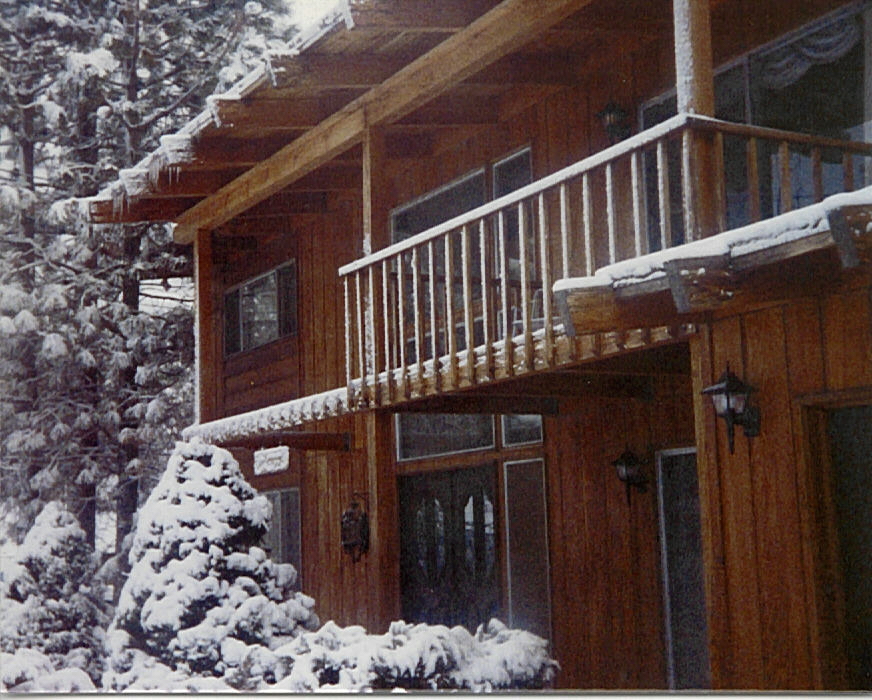 With an airport five miles from his new mountain home, Claude could now pilot himself to studio calls and teaching obligations within a short period of time.This arrangement served him well for thirty years. Claude sold his plane in 1990, after accumulating over three thousand hours of flight time as it's pilot.
There have been some changes made to the Gordon home since Claude's death. To accommodate visitors and over night guests through the snow and vacation seasons, some rooms have been re-arranged appropriately.
People from all over the world come to the resort community of Big Bear Lake to enjoy the fine winter sports, fishing and year round vacation activities it offers. It remains to be seen if the Gordon homestead will become the site of the Claude Gordon Heritage Room and Library or not. 
Family
The family surrounding Claude Gordon was loving and supportive.  The nurturing qualities of both Claude and his caring wife, Jenny, gave their two sons a foundation for growth and success in the careers they each chose.
Gary, the oldest son, was an accomplished musician and trumpet player.  His first love, however, was in construction. Building shopping malls and acoustical ceilings was his forte and he became a skilled master at his craft.  Steven, on the other hand, seemed born to be a pianist.  His first recital was held at the Hollywood Bowl when he was just nine years old. He later married his piano partner, Nadya Cataldo, and together they became one of the most successful and dynamic young duo-piano teams to ever tour the country.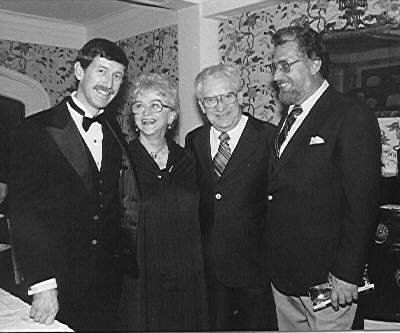 In 1984 Steven Gordon coached the 84 pianists who played George Gershwin's "Rhapsody In Blue" during the opening ceremonies of the Los Angeles Olympics.
1988 was a year of tragedy for the entire Gordon family.  Jenny, Claude's beloved wife of 52 years, died from flu complications during an epidemic that year.  Gary died three weeks later from an apparent heart problem.  In the months to follow, Steven was diagnosed with non-Hodgkin's lymphoma and died in June of 1990.  In the meantime, Claude was diagnosed with an in-operable cancer in the back of the sinus. An over the counter pain medication he was taking during radiation treatments blew out a hole in the bottom portion of his stomach and part of his intestine. The Loma Linda Medical Hospital gathered a team of skilled doctors who, after hours of bloodless surgery, saved his life.
In September of 1990, Claude married his devoted companion and caretaker, Patty, whom he and Jenny had known for several years through their mutual Christian faith.
With Patty by his side, Claude continued to teach at his annual International Brass Camp and Workshop, completing the seventeenth and last one held in 1993.  He continued teaching private students in northern California and at his home in Big Bear Lake as well.  During this time he trained several students to become certified teachers of the Claude Gordon Method and had Patty record video tapes of the classes and workshops for future use. 
Religion
The Gordon Family Orchestra was a featured attraction at various church services and church functions. As a result, Claude was exposed to a variety of religious teachings and ideas while growing up. He did not embrace any particular religion during this time but he loved to listen to his grandmother read about the blessings of a paradise earth, the resurrection of the dead and the peace among animals and mankind that the Bible spoke about. The life and qualities of Jesus Christ made a lasting impression on his mind as well.
Unlike modern Bible translations of today, the english and foreign language Bible translations used during the time of Claude's youth left the Divine name for God, "JEHOVAH," visible. It was clear who the Almighty God was and who His only begotten Son, Jesus Christ, was.
It was Claude's nature to dissect and look inside and outside anything he became interested in and the Bible was no exception.
After moving to California and living in an apartment in Los Angeles, Claude heard a loud knock on the door while practicing his trumpet. He opened the door expecting to get a bawling out from an irritated neighbor over his practicing. To his surprise, it was a little old lady with white hair offering him a free home Bible study and a Bible book entitled, Salvation. This was the beginning of a serious interest and personal investigation of the Bible for Claude.
In the meantime, Claude's mother and sister, Ruth, became interested in the Bible.  Eventually, all three accepted the ransom sacrifice of Jesus Christ and in symbol of their Christian dedication were baptized. It was not for several years later that Claude's wife, Jenny was also baptized.
Claude later joined the Theocratic Ministry School at a local Kingdom Hall of Jehovah's Witnesses and accepted the speech counsel and Bible application training that enabled him to become a very fine public speaker in the local congregations and a thorough Bible teacher.
Claude also gave credit to this school for aiding him to become a skilled speaker for brass clinics throughout the United States and Canada.  He later applied the same principles of comprehensive teaching in each of the six method books he wrote for brass players.
Aviation: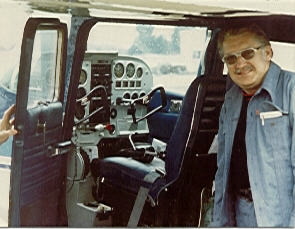 For thirty years Claude Gordon flew his single engine Cessna to teaching tours and brass clinics throughout the United States and Canada.  Personal study and on hand experience with aviation aerodynamics greatly enhanced his ability to understand and apply the laws of wind power and wind control to the human body, two elements necessary for successful brass playing.
Who's Who
The revolutionary career of Claude Gordon caught the attention of several Who's Who publications throughout the years.  The most current biographies are listed in the 26th edition of Who's Who In California published by the Who's Who Historical Society and Who's Who In The World, 13th edition, published by Marquis Who's Who. His biography has also appeared in various editions of Who's Who In America, Who's Who Entertainment, Who's Who In The West, Who's Who In Music and others.
Parting Thoughts
Throughout Claude's lifetime he had hundreds of brass students and a multitude of Bible students. Some were students of both.  
To All of Claude's students I want you to know that just a few days before his death, I asked Claude if there was anything that he wanted his students to know.  What he said is not new and something that he always tried to teach you..."Just tell them not to be loyal to wrong ideas and they will do just fine."
Claude loved you all, each and every one. 
Sincerely,
Patty Gordon