On January of 1999 the Claude Gordon Music Enterprise website was launched. The website went offline in late 2012 after the death of Eric Swanson, Claude's stepson, which was preceded by the death of Claude's second wife, Patty Gordon, in 2011. These are archived pages from the original site. Some of the content has been condensed, combined and summarized to show all the content on each page in an easy to find manner.
Career Biography
It is truly uncommon, in any field of endeavor,
to find a recognized authority who has coupled
a thorough and exhaustive study on the scientific level
with years of arduous work and personal application.
Then, with affection and infinite compassion,
be willing to share his success discoveries with others,
an expert of this caliber is a truly valuable commodity.
Claude Gordon was this type of expert.
Though much has been written about the career of Claude Gordon, it seemed fitting that this biography should come from the final interview Claude gave before his death on May 16, 1996.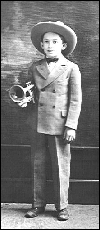 "I began my musical career at a very early age. By the age of 8 I was a professional cornetist and by the age of 14 I was a professional player and teacher of both the cornet and piano-accordian. My professional career covered a span of seventy years until ill health forced me to retire in 1994.
All of my brothers and sisters were musicians.  My father was a clarinet soloist and played with many of the old bands of  his time. He was also a friend of Herbert L. Clarke, who played such a vital role in shaping my career.  My mother was a concert pianist.  The entire family made up the orchestra that became staff orchestra for an early northern radio station.  We also become the number one concert orchestra for various hotels in the northwestern states.
My mother spent hours with me and each of my brothers and sisters in practicing our lessons.  It became so natural for all of us to play solos and duets as well as orchestral works.
My father was conducting a 40 piece theater orchestra.  One evening he sat me in the trumpet section and told me to "follow the part."  I did follow it, even though I did not yet know the names of the notes.  I learned to follow the parts well and later became an excellent reader.  While in public school, which ended when I graduated from Great Falls High School, I formed my first eight piece orchestra at the age of 16. I enjoyed becoming involved in every musical activity and community function where a musical opportunity presented itself.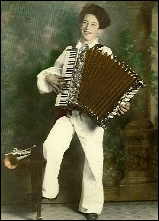 A decision to leave Montana in 1936 and come to Los Angeles started my long and fruitful relationship with the famed cornet soloist, Dr. Herbert L. Clarke, that lasted until his death in 1945, and one that set me on the road to a career that I doubt would have been as successful without his influence. His advise to me was always "don't stop where I stopped - go further."
Those words in the back of my mind became the driving force that helped me to overcome discouragement and the negative advice of others.  It was also at this time that a serious and personal interest in the Bible started to take root, providing me a stabilizing force that is still with me to this day.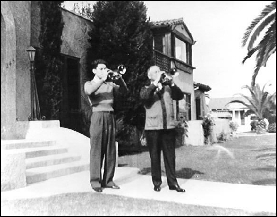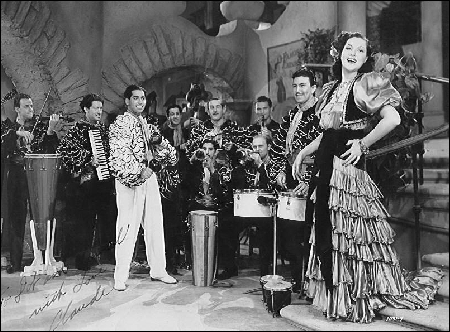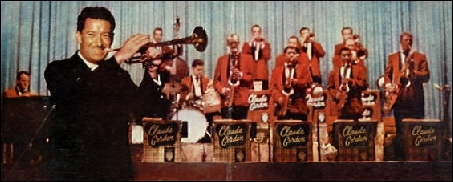 Across the bottom, left to right: Saxes: Ron Brandvick, Cecil Hill, Pete Galodoro, Wayne Songer, Jr. Second row: Trombones: Gil Falco, Johnny Wanner. Third Row: Trumpets: Kenny Hillman, Sanford Skinner, Dick Forrest (Feinberg), Piano: Bob Piper, Drums: Ray Price, Base: Val Kolar
The last trumpet teacher that I studied with was Louis Maggio, who was doing great things for players in Los Angeles.  I studied with him for about three years after Clarke died.
Thus, it was with the influence of these two great teachers that I started my first method book, Systematic Approach to Daily Practice for Trumpet  Then my second, Daily Trumpet Routines and a third, Physical Approach to Elementary Brass Playing.
In all, I have written six method books for treble clef and bass, the last one being Brass Playing is No Harder than Deep Breathing. I also edited the bass clef edition of Clarke-Gordon Technical Studies for Bass Clef.  In addition to these books I have annotated Arban's Complete Conservatory Method for Trumpet, now in print, and have submitted annotations for Saint-Jacome's Grand Method for Trumpet.  All of these books are published by Carl Fischer Publications. 
My "method" is the detailed subject of an 85 minute, color video tape entitled The Seven Natural Elements of Brass Playing.  All of these materials have been universally distributed and accepted by brass players the world over. And I am proud to say, have helped many students to become notable names in their own right.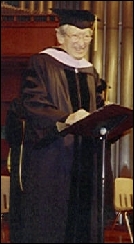 Although my orchestra never had a hit recording you can still hear some of my studio playing in TV reruns, such as the I Love Lucy show on the Nickelodeon Cable Channel's Nick At Nite. In 1992, my achievements and contributions to the world of music and teaching were recognized in the form of a formal presentation of an honorary doctorate degree in the field of "Music and Letters," from the La Sierra University in Riverside, California. Currently my wife, Patty, is putting together a photographic history and documented biography of my career and private moments in my life,  When finished, it will be released through the Claude Gordon Music Enterprise, a mail order business that she established this year."
A Final Note 
April 5, 1916 - May 16, 1996
The last page in the chapter of a brilliant life and career has closed for the world renowned trumpet virtuoso and foremost authority on brass playing.
The "King of Brass," Claude Gordon, died at home in the mountain community of Big Bear Lake, California, on May 16, 1996.  Claude was 80 years of age at the time of his death, a victim to cancer.
The "Claude Gordon Method," as his books, video tapes and teachings are referred to, has impacted the world of brass playing for an indelible betterment that it had never known until his time. It will continue to be his legacy to time indefinite, for as long as there is a brass playing world out there and for as long as there is a brass player in it.
Claude Gordon's spectacular music and teaching career began at age five when his orchestra director father gave him a cornet, taught how to finger and told him to "practice."  It ended at the age of 80, just a few days after completing the  interview above.